Raphael Grieco (RG) - FrenchWeb: Hi Marc, a paywall is a method of restricting access to content for unsubscribed readers, from their first visit or after a few free articles. What is the SmartWall and why does it interest the media?
Marc Lamarche (ML): I will answer you with a question. What do you do when you arrive on a paid article where the only choice to access it is to subscribe? Like over 99% of users, you leave. It's like if a restaurant forced you to order a 200-euro menu when you just wanted a salad. In an "on-demand" world, wheåre newspaper consumption is increasingly based on the article, editors must be able to offer simple and innovative payment solutions that correspond to current digital consumption habits.
Micropayment for one or more articles is part of that, as long as it's as easy as paying on iTunes. The SmartWall is a hybrid solution for content monetization that is user-centric. It enables user experience and navigation optimization to retain readers on media sites by offering them simple and user-friendly payment methods.
For publishers, the tool allows them to maximize their revenue by activating various levers (frictionless payment via mobile operators, customized subscription offers, premium video advertising, disabling ad blockers, etc.) depending on the scenario and customizable, testable and measurable segments.
We would like to reshape the media ecosystem by creating a virtuous circle between publishers, advertisers and readers. To do so, we facilitate user access to paid content and offer advertisers quality advertising space and attention grabbers.
Beyond its high performance in terms of revenue generation, the SmartWall also has a broader and almost societal ambition: to make the reader understand that information has a cost. If you ask Cyril Petit (Editor in Chief at JDD), he will tell you that the SmartWall helps to make readers aware of the fact that information (its production, publication, etc.) has a cost that cannot be reduced, enabling them to become accustomed to paying, in one form or another, after an era of everything being free in terms of online information.
In general, publishers appreciate the possibility of generating revenues on 100% of their audience, by offering a customized response to each user based on their engagement rate. Thus, a casual Facebook user will have the possibility to buy their article in just two clicks or watch a video. On the contrary, a heavy user may be offered a customized subscription offer. Thus, we suggest that publishers avoid creating a negative experience for the reader by not forcing them to subscribe when they simply want to read an article. By permitting them to easily access an article, we allow them to enjoy a positive experience, while collecting anonymous behavioral data to try and turn them into a subscriber the next time they visit the site.
Nicolas Occhiminuti (NO): As partner and distributor of the solution for France, we have met more than 30 publishers in two months. They appreciate the "all-in-one" aspect of the SmartWall (dynamic paywall + InWall video advertising format + ad blocker avoiding solution + two-click payment solution). All is included in a unique tool which is activated either as an entire paywall or one that optimizes an existing paywall. In any case, the tool enables the comparison of the performance of each optimization in real time, while relying on the machine learning algorithm that will solicit the most efficient combinations according to the objectives provided by the publisher.
If the Smart Wall is very easy for users to understand, it won't be any less simple for publishers who can quickly integrate it without significant technical development. This has attracted publishers like Journal Marianne, for whom this integrated aspect was very important, in addition to the rest.
RG-FrenchWeb: The SmartWall offers the possibility to pay while watching an advertising video. Is this a viable model when we know that advertising revenues are often not enough to cover the cost of content production?
ML: That's what brings us to the end of the model – the frantic race to constantly generate more traffic in order to sell more and more advertising that is often of poor quality (banners, intrusive videos, etc). Today, audiences are fragmented and attention is becoming one of the most valuable resources. Certain advertisers have understood this and are looking for methods that efficiently capture attention and generate engagement. The SmartWall never imposes watching a video but always offers it as an option and alternative to payment or a subscription. The reader must also intentionally choose to give their attention to and watch the commercial in order to unblock their article.
We would like to bring readers and advertising back together, thanks to a respectful and non-intrusive advertising format, all in a premium publishing environment. By bringing value and quality to advertising, we are able to convince advertisers with advertising rates that are six and a half times higher than for other video formats. Our goal is to be able to always match video formats with articles, by working more on context than Internet users' personal data.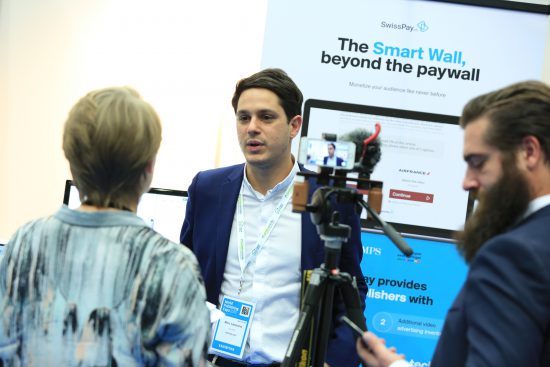 We can then choose certain articles for certain advertisers without mixing genres between editorial and advertising content, as the differentiation is clear for the user.
RG-FrenchWeb: Marc, there has been a lot of news about SwissPay since the end of 2017. Can you summarize the highlights, particularly about the new fundraising planned for 2018?
ML: There are indeed plans to fundraise 1.5 million euros this year to support our development in Europe, Asia and the United States, consolidate our technological advances and strengthen our teams dedicated to marketing the InWall Video advertising space, in addition to managing publishers.
RG-FrenchWeb: What types of publishers are you targeting?
NO: At ZEENS, we focus on winning solutions for the publisher, meaning immediate profitability. We realize, however, that the levers to increase sites' profitability sometimes differ from one publisher to another, where some are trying to boost their subscription plans or even test new ones and others are tackling the issue of effectively reducing ad blocker filtering to enable their management to work better. The most innovative publishers have even started to integrate their own options in the choices they offer users on their SmartWall, as potentially anything can be integrated in the SmartWall, much like a game of Legos with HTML bricks that the publisher can customize. Any media company can potentially be a client, knowing that even if they already have a paywall, they can use the Smart Wall as a classification yard for their own options and subscription offers.
ML: The strength of the Smart Wall is that it's designed for the user from the ground up—an often overlooked, yet central component of the media value chain. If the Internet user is not satisfied with their experience, they move on. If we take the example of advertising on newspaper websites, it is often a conduit for negative experiences. The consequence is costly for the media, as users react by using ad blockers (37% of French people now have an ad blocker). In the end, if users are not satisfied, everyone loses. What we wanted to recreate is a highly valuable experience, with the constant possibility for the user to choose, by removing any constraint.
If the user engages, they will do so willingly; if they want to pay for only one hour of access, they can do so in just two clicks without creating an account, filling out a form or entering a credit card number, knowing that everything is linked to their mobile phone bill. Our statistics prove that users pay when it's without friction, as they do on their mobile phones for games, music, books, etc. We are connected to over 230 mobile operators worldwide, as paying mobile phone bills is the most efficient payment method today for small amounts. We also recently added PayPal as it is the only global payment provider that suits with micropayment.
For other payment solutions, we only opt for user-friendly payment systems that have a high rate of adoption in their country. We also provide simplicity and save time for users in order to facilitate access to information products, which suffer from users' high level of volatility, as they do not perceive its value until the time of desired consumption. As less commitment is required than for other consumer goods, we must ease triggering their decision-making.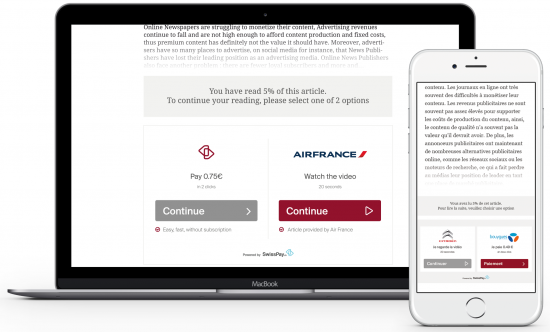 RG-FrenchWeb: Nicolas, could you give us just a few words about ZEENS' work in France and why this partnership?
NO: ZEENS was established within the Presstalis Group, as a digital growth engine for the press. Closeness with the media and understanding their concerns is part of our DNA. We offer them many services that range from the design of chatbots (Dédé from JDD) with our partner, Recast, to AI (recently acquired by SAP), to traffic acquisition via our subsidiary, ADthletic Media. However, we also needed to offer publishers effective monetization technology. It's within the framework of benchmarking solutions and the War Rooms at ZEENS Lab that the Smart Wall has established itself, according to our criteria, as a real winning solution with a very strong potential for publisher profitability.
NO: We met through an international network of French entrepreneurs and executives, French Founders, who connected us. Our role at Zeens is to acquire newspaper publishers and guide them in optimizing SmartWall to improve their website's revenue generation. SwissPay takes care of technology and advertising demand.
ML: In this type of collaboration, there is business synergy and the human aspect. Regarding the first point, ZEENS Lab provides us the means to develop in France, thanks to its knowledge of the French market and relationship with nearly 400 publishers. On the second point, we realized that we had a lot in common culturally, in our working methods and relationship to innovation. On a human level, we connected so well that our bond quickly evolved into friendship! It seems anecdotal but, in reality, it's a key factor to success.
RG-FrenchWeb: Thank you, gentlemen; a final word for the start of this new year?
ML: Our goal for 2018 is that Internet users return to traditional media and that traditional media find a new dynamic. That's assuming that things are done a bit differently. We are optimistic because we see a window of opportunity, with a card to play for traditional media… and with the SmartWall, a tool to establish pragmatic and profitable strategies quickly, so as to preserve the independence of the media against platforms in the long-run.

An interview initially published on www.frenchweb.fr

(https://www.swisspay.ch/ – https://zeenslab.com/)